Welcome to your Home away from Home WITH HOT TUB
The Place you want to visit
There are plenty of exciting things to do at Tattershall Lakes, there is so much available.
Our Mobile Home is South facing so enjoys the sun all day long, rising in the East and setting in the west.
Why not enjoy a relaxing break in our luxury mobile home, perhaps grandmother and grandfather might look after your little princes and princesses to allow you a romantic interlude in your busy schedules. Although a family site there is plenty of good walking and activities for those who feel the need to re-boot. We come here ourselves to catch up with each other and re-connect over a good meal and a glass of wine. We like a simple approach to our adventure, just to wind down. Apart from all the activities and entertainment available on the site there are local places to visit, like Woodhall Spa, Lincoln with its Christmas Market, Cathedral and Antique Fairs, National Trust properties such as Tattershall Castle, on the doorstep and Local Pubs and Eateries.
Organised activities for children are provided as entertainment only, Children under 8 years must be accompanied by an adult at all times and they should wear clothing that is appropriate for the activity they are attending. The play team leaders are fully trained. Pop in to "Guest Services "when you arrive and pick up a weekly entertainment guide to see what is on. There is a safe beach with sand with an outdoor entertainment area, a childrens outdoor adventure playground, splash park and sports court.
If you like fishing you will love the well stocked lakes perfect for every level of angler.
There is a dedicated Jet Ski lake of about 45 acres filled with clean and clear water.
If you want to do Wakeboarding then you will find the most thrilling obstacles in the UK.
There is an 85 acre lake with a Water Skiing competition style arena with slalom course and jump with seperate lanes for recreational skiing.
The indoor swimming pool has views over the water ski lake, a sauna, steam room and lakeside hot tub.
There is also a larger beach hoping Summer will be a scorcher again this year.
And of course new Menu's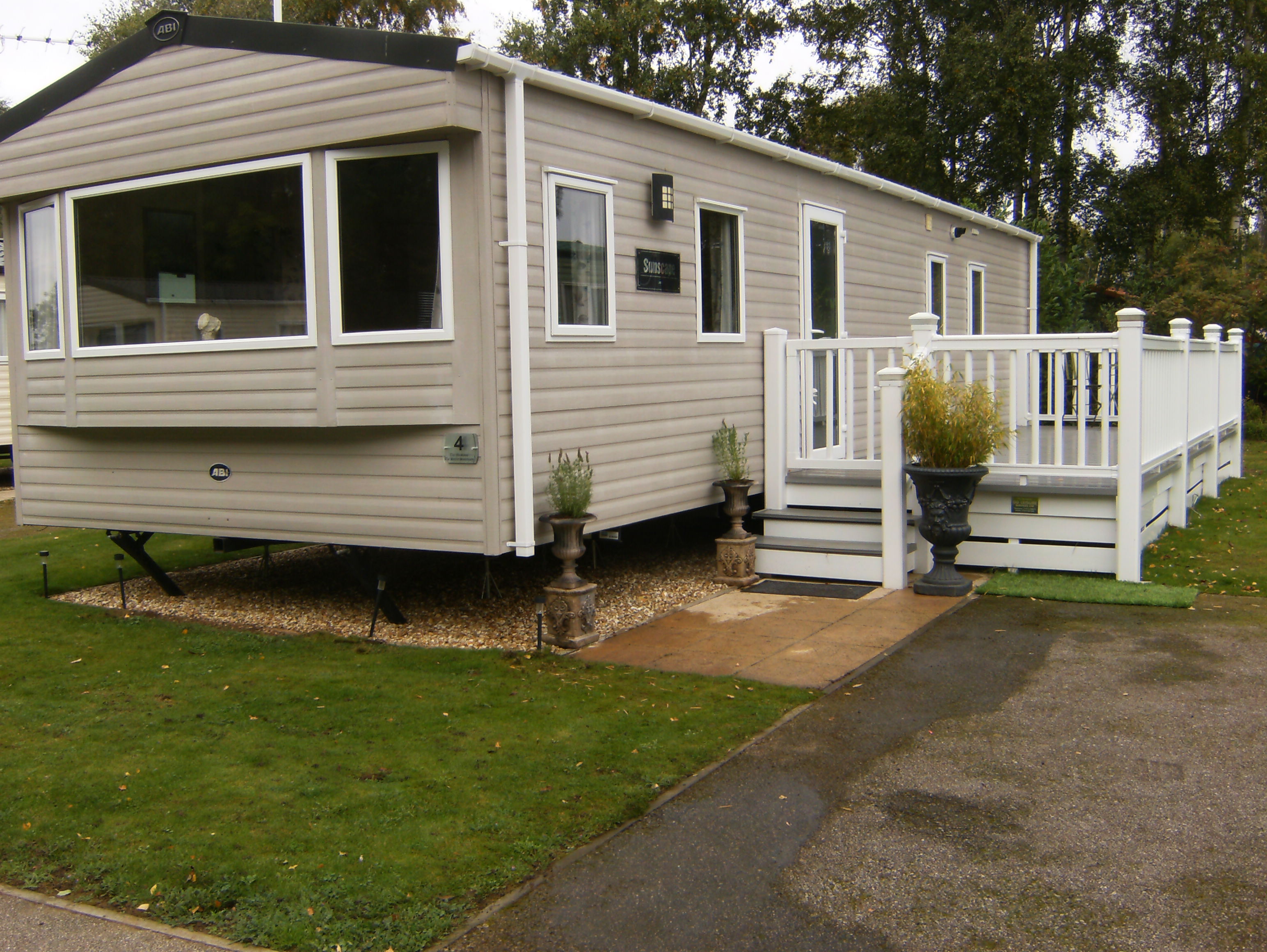 Sunscape luxuryMobile Home WiTH HOT TUBto Rent
Sunscape luxury Mobile Home, 36 foot X 12 foot, FullyDouble Glazed with Central Heating, Radiators in Every Room, Electric fire also in Sitting room. One Large Bedroom with king size Bed, Double wardrobe, Dressing Table with Chair, En Suite with Toilet and Basin. Second bedroom with two single beds.
The Accomodation
ABI Sunscape Luxury Caravan 36' x 12'
Fully Double Glazed with Central Heating and Electric Fire in Sitting Room.
Main bedroom has a king size bed with double full height wardrobes dressing table, radiator, with en suite toilet and hand basin, there is also a 24" Smart TV/DVD Combi with Memory stick Media Centre, fitted on the wall.
2nd bedroom with two Single Beds full size slim wardrobe and radiator.
A family bathroom with Shower, Toilet and Hand basin, storage shelves and Radiator.
The Kitchen / Diner and Sitting room is well equipped
Kitchen has gas hob / grill and oven, toaster, kettle, microwave, slow cooker, Bread Maker, Hand Mixer, Tall fridge freezer 50/50 many storage cupboards, with crockery, cutlery, glasses, many other utensils.
There is also a drying rack, vacuum cleaner, mop and bucket, soft and stiff brush, small brush and pan along with assorted cleaning materials. Also stored is a Parasol to be used with outside Table and Chairs.
There is a table with surround seating and stools, with wrap around seating in Sitting Room, radiator and electric fire, also a 43" TV DVD/ Combi with media centre for playing memory Sticks. A Pull Out Double bed is also available under the seating.
Outside is a large decking area with a 5 seater HOT TUB, table and 4 chairs a grassed area to the door side, front and rear with a tarmac space for car parking.
There is also a Wooden Table and 4 Chairs on the Grassed area.